Company
The MTN Foundation supports orphans in the East Region of Cameroon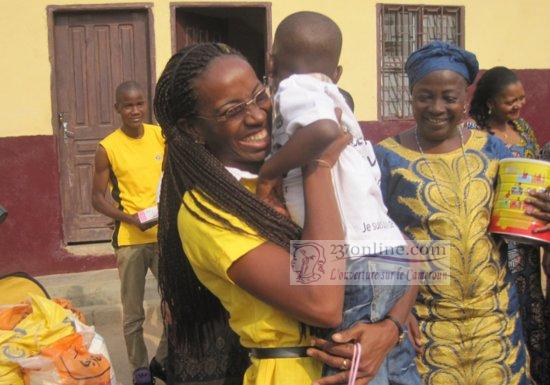 Friends of the MTN Foundation, on 22 February 2014, paid a visit to inmates of the Marie France Foundation Reception Centre.
"No matter what you are going through, know that you are loved".[pagebreak] This was the message of comfort brought by Friends of the MTN Foundation to children of the Marie France Foundation Reception Center in Bertoua. In addition to the speeches, Friends of the MTN Foundation did not come empty-handed. On the occasion, the Center received equipment such as gas cookers, TV sets, mattresses, bed sheets including basic foodstuffs like rice, sugar, milk, soap… The icing on the cake constituted party bags which brought out smiles from the inmates of this Center .
"To see these little faces shine and to have provided through the MTN Foundation these few moments of joy is very gratifying" happily says Charly Djandamba, Friend of the MTN Foundation.
On behalf of Friends of the MTN Foundation, Alexandra Atoabe thanked the officials of the Reception Center for the love and affection they provide to these children. Apart from lessons taught, these officials are "fathers and mothers, and this is priceless", Alexandra Atobe revealed. She also encouraged the children to give their best in order to become "models of success, and respected men and women in society".
The Divisional Delegate for Social Affairs of Lom and Djerem, with her team, boosted the ceremony by their presence thereby illustrating the State's support for the actions undertaken. The Delegate did not hesitate to thank the MTN Foundation for all the care given to the underprivileged children of the Lom and Djerem Division. She ended her statements by the old adage: "who says thanks, asks for more".
The Marie France Foundation is the fruit of dynamism and willingness of its promoter, Mandari Marie France, who has always manifested the desire to be at the service of distressed children and the old by providing them a family and legal environment in which "they can grow and overcome disappointments due to the trials and tribulations of life".