Company
Health: Banque Atlantique Cameroun marches against male cancers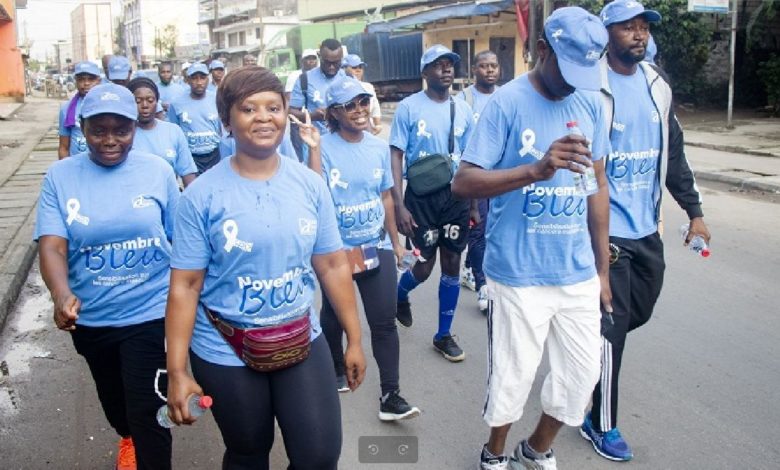 Bank employees marched in the streets of Douala on November 26, 2022 to raise awareness about these cancers that are little known to the public.
They beat the macadam of the streets of Akwa. Under the supervision of officials from the regional sports delegation of the Littoral, employees of the Banque Atlantique Cameroun marched to say a stop to male cancers. Punctuated by physical exercises, the "Blue March", in reference to the month of November for the fight against male cancers, made it possible to "to engage and raise public awareness of these little-known cancers", say walkers.
"After Pink October dedicated to the fight against breast cancer in women and Blue November for the fight against male cancers, Banque Atlantique Cameroun wanted to use the two months to draw public attention to the fight against cancers which are a very large cause of death in the world", explained Ruth Stella Mbog. The Head of Communication at Banque Atlantique Cameroon indicates that this action is in line with the bank's top management's desire to raise its voice and provide answers to its customers on crucial social issues.
According to statistics from the World Health Organization (WHO), cancers are the main causes of death in the world with nearly 10 million deaths in 2020, i.e. almost one in six deaths. The most common are breast, lung, colorectal and prostate cancer. About a third of cancer deaths are due to the 5 main behavioral and dietary risk factors: high body mass index, low consumption of fruits and vegetables, lack of physical exercise, smoking and alcohol consumption.
According to medical professionals, many cancers can be cured if detected early and treated effectively. For Banque Atlantique Cameroon, "It's about raising public awareness of the risk factors for cancer and challenging people to take care of themselves and those around them", insists Ruth Stella Mbog, who specifies that after the march, the bank will continue internally to raise awareness among staff and mobilize women to support men against cancer.
237online.com