International
Qatar 2022: Samuel Eto'o humiliated Cameroon by wearing the Senegal shirt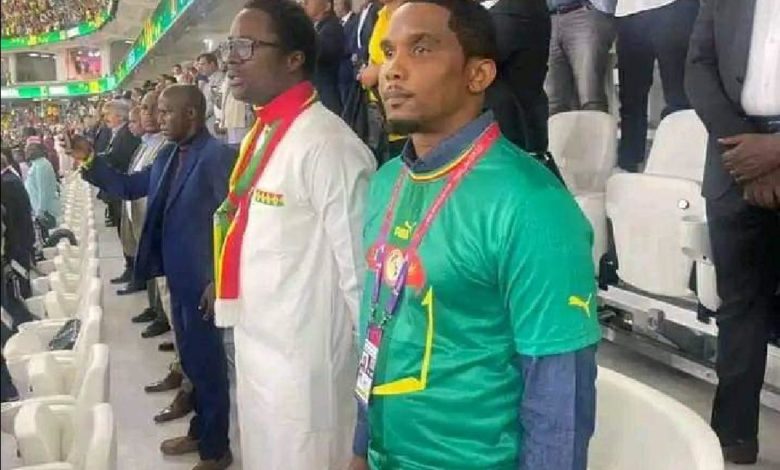 For journalist Denis Ikoul, Samuel Eto'o should not wear the Senegal jersey yesterday. he says:
"You can be in solidarity with a team or a cause, that's normal, but I think there are excesses that you have to avoid, especially when you have a certain status. When I saw this image, I was shocked. I'm sorry, we are in the World Cup, and the principle is that the 31 other teams are first of all potential OPPONENTS of Cameroon. Starting from this premise, I want someone to explain to me the interest for the president of FECAFOOT to wear the jersey of an opposing team in a competition where FECAFOOT is involved. This is serious professional misconduct, and to say so is not to offend anyone, especially since Cameroon are not yet eliminated.
We can turn it all over the place, but I think that on this one Samuel again missed the opportunity to respect FECAFOOT, the Cameroonians, Cameroon as well as One All Sports, because this shirt he wears in world vision in full competition bears the mark of a competing equipment manufacturer as well. I found it very curious that Cameroonians see this rather as a salutary and Pan-African act, but it is a real Heresy. If we are lucid, the executive committee of FECAFOOT must ask our President for an explanation, because he does not have the right to wear the jersey of an opposing team in full competition.
Even as an ambassador of the competition, it does not pass, because this status implies a certain neutrality. There are, however, brilliant communicators in his entourage, and I find it curious that no one could have had the courage to subtly remind him that this is not normal. Afterwards I think he can learn from his mistakes, but he must already be able to admit that it is one. He could have supported Senegal in his heart like all of us, but to put this jersey on him is a fault for the President that he is, especially when we remember that for the matches.
237online.com