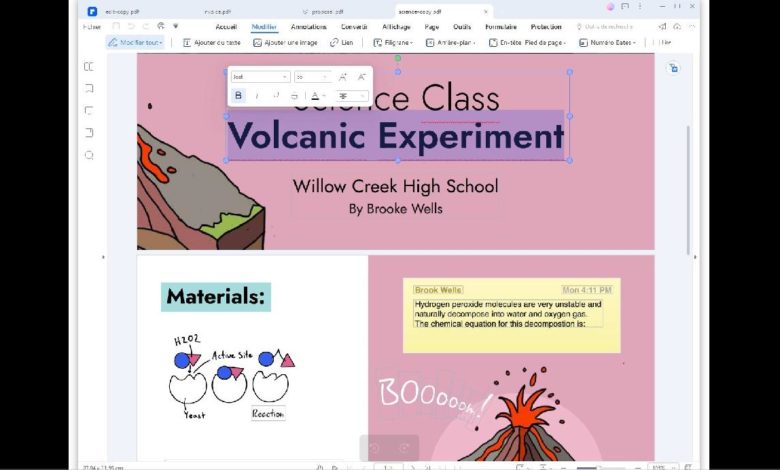 The PDF format remains the most popular file type for sharing information between users.
The advantages it offers over other formats are appreciated by individuals and businesses, who see PDF as a good ally to keep your data safe. After all, it's the only digital writing format in which content always appears as we produce it. In other programs, however, the source design, structure, order, and other elements may change when the document is opened on another device.
But the PDF format has evolved a lot since its creation and other options, such as editing, are now required. Indeed, although the PDF has triumphed by its invariability, it is also demanded today that this format can be edited to change the things that need to be corrected. In this context, the computer industry has developed PDF editors that offer great possibilities, although without a doubt PDFelement, from Wondershare, is the editor that is succeeding at the moment. Although its potential is vast, the OCR function is one of the most remarkable thanks to its transparency. But what is OCR?
OCR: what it is, when to use it and how
Although it is a technology that is already present in many devices, there are still users who are far from knowing its advantages and properties. OCR (Optical Character Recognition) is a tool designed to recognize text inside documents, such as a photo or a scanned file containing words. PDFelement has this enhanced feature in which thePDF OCR is able to digitize the text of the document and show it to the user completely respecting the format: images, tables, graphs… The file will be ready to be modified.
OCR technology has been particularly useful for users who constantly work with scanned files, as might be the case for public administrations and official physical documents. Teachers also often resort to specific pages of certain books to retrieve a special piece of content. In any case, it will no longer be necessary to copy by hand the text that we want to edit. Using PDFelement's OCR feature, we can get the full text of the scanned file and then edit, cut and highlight it as we want.
The good news for those who want to test the potential of this tool is that its use is really simple. The first thing to do is to open PDFelement and deploy the program interface. Once inside we will import the document we want to scan. If the file format is PDF, everything will be lighter, although it supports other types such as JPF or TIF. In any case, the document will then appear on the main screen of PDFelement. Then we will select the OCR option and the program will do the rest of the work. When the process is complete, we will have in front of us a document identical to the one we scanned, but with the possibility of modifying it to our liking.
The success of the process is particularly useful when the scanned documents contain elements such as tables or graphs. Otherwise, we would have had to copy all the content by hand, including the design, because we couldn't open it in a spreadsheet. Thanks to OCR, we can modify the content from PDFelement or use the converter and create an Excel document to comfortably work with the content.
Best of PDFelement
Although OCR is one of the most useful and powerful tools in PDFelement, this editing software from Wondershare offers many other possibilities to reshape our PDF or create one from scratch. For this it has a text editor in which we can choose the format, font, alignment or color, creating a unique design for the purpose we want.
But since it's not all about text, PDFelement has the ability to add images into the document and arrange them in whatever format you like. With this tool we can rotate, flip, crop and change the opacity of images. Our graphic elements will be to our liking. And if we want to be sure that the author of our design is safe, the function of adding text and graphic watermarks is also integrated. We can customize to our liking and create a fully recognizable brand of our property.
When we need to create a single document with all the files, PDFelement allows us to combine all the content we want. We just have to click on the "Combine" option and we will be able to select the documents that we want to merge to create a single file. Thanks to this function, we have the possibility of printing a lot of content with just one click.
If we really need to work with the PDF format and manage it to our liking, then PDFelement is the most effective and easy option. Backed by the Wondershare brand and compatibility with Windows, MAC, iOS and Android, which will allow us to share our documents with other users without any problem.