Africa
LG delivers an exceptional sound experience with its new line of soundbars and XBOOMs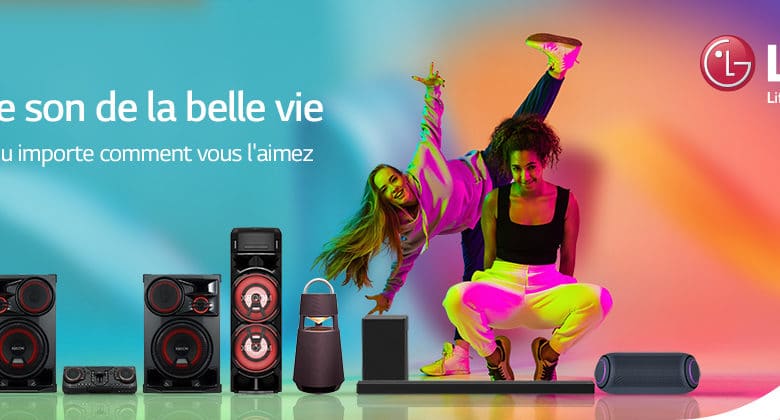 From Dolby Atmos® soundbars to PA speakers, LG has something for every audiophile.
ABIDJAN, Ivory Coast, August 16, 2022 -/African Media Agency (AMA)/- LG Electronics (LG) soundbar and XBOOM ranges deliver the ultimate sound experience through advanced audio technologies, better design adapted and a variety of useful new functions. Demonstrating LG's continued commitment to user-centric innovation, Soundbars and XBOOM are ready to excite with premium sound, unique features, exceptional convenience and represent the companion ideal daily for the nomadic way of life of our time.
The XBOOM name has become synonymous with power and quality, helping the LG brand achieve its dominance in the mini component and all-in-one audio categories. XBOOM products stay true to the brand identity, delivering robust sound and unparalleled quality and ease of use. They include mini components, all-in-one units, XBOOM Go portable Bluetooth speakers and the latest LG XBOOM 360 speaker which features a conical-cylindrical design and delivers authentic, omnidirectional sound that's perfect for any space or occasion.
LG's new soundbar models deliver a more premium audio experience, versatility and convenient control while upping the ante with eco-conscious designs and packaging. The new range offers high-quality sound, easy connectivity, smart functionality and sleek aesthetics with a modern look that are designed to complement LG's stunning TVs and work well with any decor.
"Our goal has always been to bring better sound to more people and to deliver more great products that leverage our successful partnership with Meridian, and our latest soundbars and XBOOM help achieve that goal. said Daesun Hwang, general manager of the audiovisual division of the West African branch of LG Electronics. "High-performing, convenient and highly versatile, LG's new models will make the premium audio experience accessible to more customers around the world. »
"LG will continue to develop its line of soundbars and XBOOM products to deliver powerful sound that helps users create an enjoyable atmosphere, whatever the occasion. We are excited about the present and future of LG XBOOM products and soundbars and will continue to strengthen our offerings and our position in the sound reinforcement market," he said.
All of LG's latest soundbars support Dolby Atmos and DTS:X for dynamic three-dimensional audio. To learn more about LG sound systems, please visit
https://www.lg.com/africa_fr/systeme-audio

Distributed by African Media Agency for LG.
About LG Electronics
LG Electronics Inc. is a global technology and manufacturing innovator with operations in 140 locations and a workforce of more than 70 people worldwide. With global sales of $000 billion in 54,4, LG is made up of five companies: Home Appliance & Air Solution, Home Entertainment, Mobile Communications, Vehicle Component Solutions and Business Solutions. LG is one of the world's leading manufacturers of televisions, refrigerators, air conditioners, washing machines and mobile devices, including high-end LG SIGNATURE and LG ThinQ products with artificial intelligence. For more information on our products in Nigeria, visit https://www.lg.com/africa/about-lg/our-brand