Company
Cameroon: Eight officer cadets expelled from the Emia for false diplomas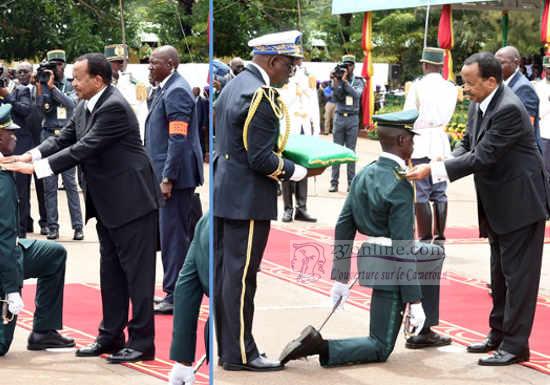 They are added to the military students as indicated by the Mindef Joseph Beti Assomo, who announces their replacement by candidates who have composed. It was last Friday in Yaoundé.
Eight student officers from the Joint Military School (Emia) have been removed from the ranks for false diplomas, as was the case for non-commissioned officer students, military students and gendarmes, following the measure taken last week by the Minister Delegate to the Presidency of the Republic in charge of Defence, Joseph Beti Assomo. The Mindef announces that these will be immediately replaced by candidates who have composed, and warns these unauthorized persons who sometimes try to disguise the results. "Arrangements are being made to replace the counterfeiters with candidates who have composed. Believe me, there are more than 100.000 of them who meet all the physical and intellectual requirements. The army wishes to carry out this operation in all objectivity without any interference, unauthorized people who sometimes try to disguise, influence the results and competitions by underground and inappropriate steps ", specifies Joseph Beti Assomo. A total of 929 personnel in training, including eight student officers, 898 recruit soldiers and student gendarmes, 43 non-commissioned officers on behalf of the gendarmerie and the armies removed from the workforce. These were holders of false diplomas of Bepc, probationary, baccalaureate, Gce Advanced Level, Gce Ordinary level, Licenses and Masters.
A decision which aims to awaken the conscience of candidates and aspirants to a military career in the armies and the gendarmerie. "The army cannot admit cheaters and counterfeiters into their ranks who try to gain access by illegal means. Investigators of tomorrow, and the defenders of law and order cannot be before entering the ranks, delinquents with false diplomas, while deserving young Cameroonians, holders of authentic diplomas are left at the door. during competitions and recruitments. I say it bluntly, zero tolerance will be required in this area, "hammered the Mindef.
The deception was discovered after careful, long and vigorous checks with the administrations and institutions responsible for the management of official examinations. Both in Cameroon and in neighboring countries and in other countries far away, where it was sometimes necessary to dispatch Mindef missions from Yaoundé. Opportunity for Mindef to thank the contribution of administrations and institutions. "This process to benefit from all the care, all the attention and all the time it needed. We would like to solemnly thank the administrations and educational and university institutions that have provided us with their collaboration in this operation," says Joseph Beti Assomo.
Moses Moundi / 237online.com